The Ultimate Guide to Cap-Toe Oxford Shoes for Men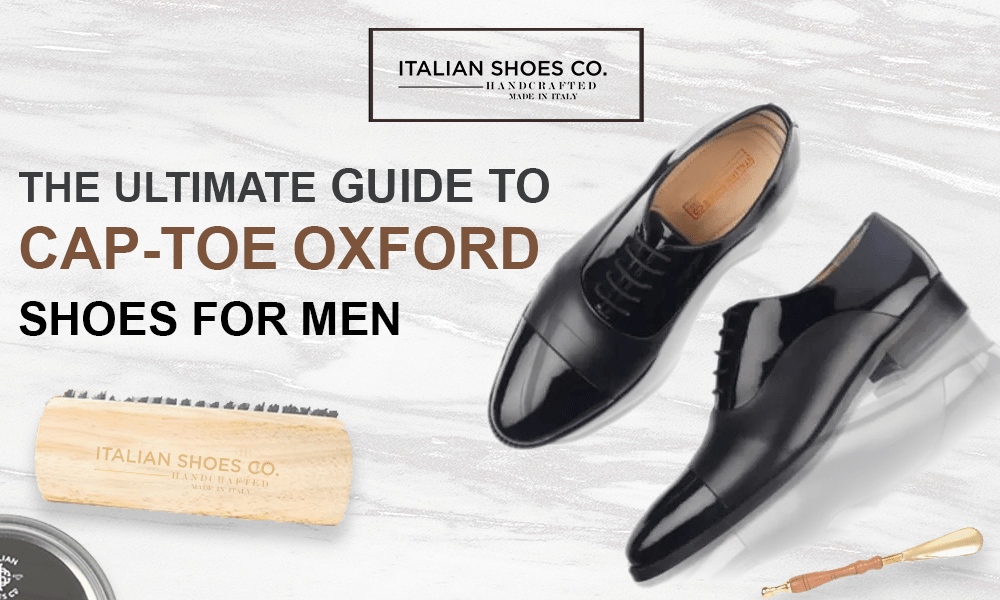 Oxfords Shoes are the most elegant and classiest pair of dress shoes to choose from a wide range of shoes available for men. A quality pair of Oxfords can help you dress down or up according to your mood and occasion and are an ideal pair to be in every man's wardrobe. Oxfords are classic men's shoes that come in a closed lacing system design. The iconic shoe comes in three toe types: Wingtip, Plain toe, and Captoe oxford are known for their formal aesthetics and are usually paired with formal suits and tuxedos. Cap-toe Oxfords on the other hand come with a seam throughout the toe and are popular office wear
1. What is a Cap-Toe?
A cap-toe shoe has a horizontal lining and stitching over the toe that extends to either side making a "cap" on the toe. Cap-toes are famous for their elegant looks and are commonly worn with smart casual outfits for that relaxed yet classy formal look.
2. Where Did Cap-Toes Originate From?
While there aren't many facts about when the cap-toes came into play, what we do know is that cap-toes were originally designed for oxford shoes that started in the mid-17th century at the Oxford University and were called "Oxonians". Another common way to refer to Cap-toes is as "Balmorals" named after the Balmoral Castle in Scotland.
3. Common Features of a Cap-Toe Oxford:
Formal attire:
Cap-toe oxfords take the place for being the most formal footwear which can be easily worn to almost any formal event. From a casual business meeting to a high-profile event, Cap-toe Oxfords are your standard black-tie shoes. A plain black cap-toe oxford is widely popular for being the best daytime office wear and when polished to perfection can take your whole outfit up a notch.
Seasonal:
Cap-toes are known for being very flexible and seasonal. They can be worn all year round at any time of the day. There is a huge arrange of varied cap-toe oxfords for you to choose from for each season. Light-coloured leather is suited for spring, autumn brings burgundy shade into play and the winters are reserved for the classic dark colours like black and brown.
4. Do You Need Cap-Toe Oxfords in your Collection?
YES! Cap-toes is an absolute must-have in your wardrobe. A cap-toe's real beauty is that they come in many styles and eye-catching colours to suit any occasion. Cap-toe oxfords are the hidden gems of men's footwear and are an all-time favorite. If you are someone who loves to wear suits and formal outfits, you should own a pair of Cap-toe Oxfords in their classic black and brown colours. Cap-toe Oxfords are not just restricted to formal attires. Get them in tan or burgundy and you can easily slide into the casual side. A pair of jeans and blazers look really smart and put together with Cap-toe oxfords. It's time to make Cap-toe Oxfords the star of your collection. Here are Italian Shoes Company's top Cap-toe Oxfords to inspire you.